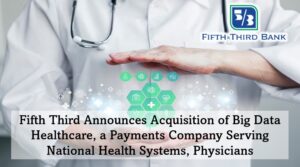 Fifth Third Bancorp has announced a definitive agreement to acquire Big Data Healthcare, a technology solutions provider for healthcare payments and remittances. The transaction complements nationwide healthcare revenue cycle capabilities that address diverse and complex customer needs while building on Fifth Third's digital innovation legacy and focusing on the healthcare industry.
"The healthcare industry is one of the largest and fastest-growing segments of the U.S. economy. It's the first and the largest of our industry focus areas,"

"Together, we can deliver a specialized client experience driven by innovation."

Kevin Lavender, head of commercial banking at Fifth Third Bank.
Founded in 2017 by David Plotkowski and Dean Puzon, Big Data Healthcare optimizes healthcare outcomes through intelligent data automation. Its core solution FUSE is an online portal that automatically reconciles money transfers with deposits and provides file and data management that improves visibility while working in tandem with systems now available.
"The Big Data Healthcare team understands that healthcare organizations have their own unique and challenging financial environments,"

"We're thrilled to bring their experience to our Treasury Management and Commercial Banking solution set."

Bridgit Chayt, head of wholesale payments.

"We are delighted to have found a partner that acknowledges common goals and desires to support and grow existing and new businesses through our innovative healthcare solutions. Today we are an even stronger company through our relationship with Fifth Third,"

David Plotkowski. CEO & Co-Founder, Big Data Healthcare.
The acquisition, which will be affected by an indirect subsidiary in Fifth Third's proprietary assets, is subject to the usual closing conditions. The financial conditions of the transaction have not been disclosed.