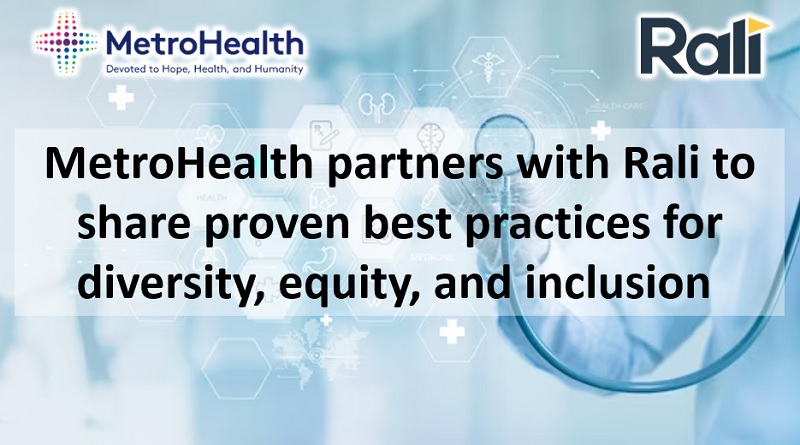 Diversity, equity, and inclusion have been embedded in the MetroHealth system's culture since its inception nearly two centuries ago. These values ​​inform how MetroHealth serves its community and operates as an employer. Now, through a partnership with Rali, an innovative learning and behavior change platform, the hospital system will share its DEI expertise across the healthcare industry.Starting in August, the unique content MetroHealth has developed around creating a culture of diversity, equity, and inclusion will be available on Rali's Change Experience Platform (CxP).
"The folks at Rali realized that the educational assets that MetroHealth has in this space are better than anyone in the country,"

"We're way ahead of everybody else because the demographic of our patients is such that we've been doing what we now call 'Diversity, Equity and Inclusion work' for 186 years."

Alan Nevel, MetroHealth's Chief Equity & Community Impact Officer.
Following the 2020 murder of George Floyd, the Board of Directors of MetroHealth and the MetroHealth Foundation have redoubled their commitment to addressing systemic racism, social injustice, and inequality in care. health care. The DEI Health Systems team has partnered with industry-leading consultants Janet B. Reid, PhD, President and CEO of BRBS World, and Vincent Brown, President and CEO of BRBS World. VRBC, to develop ways to uncover unconscious bias and generate conversation about the topic among employees. The resulting program features original videos, including the critically acclaimed "Healing Begins with Listening" series, as well as other curated materials and interactive components, all distributed through the change "Learn | Study | Do | Unique "Inspirational".Through a licensing agreement, Rali will market MetroHealth's award-winning content to help other healthcare organizations to:
Deliver compassionate and culturally competent care.
Demonstrate respectful empathy with all constituencies.
Build shared trust across the organization and communities served.
Create connected understanding between diverse individuals and populations.
Provide equitable service and support.
The Rali Platform is different from other approaches because it provides a unified environment designed to enable scalable, measurable, and lasting changes in thinking and behavior. Experiences can be personalized and customized to serve any type of healthcare organization, from individual users in a small rural hospital to groups of thousands in a global healthcare system bridge.
"We see an enormous demand from health care organizations for experiences that represent DEI best practices such as those from MetroHealth,"

"We are incredibly excited to help MetroHealth bring their hard-earned DEI expertise to life in a highly engaging and outcome-driven manner."

Larry Mohl, Rali's Founder.
"The partnership with Rali represents MetroHealth's commitment to DEI and its pursuit of innovation."

"It is an honor to work with Rali to share what we have learned and developed around diversity, equity and inclusion with our peers in the healthcare industry,"

"As caregivers, we have to understand how unconscious bias, systemic racism and the 'othering' of those who do not share the same backgrounds and experiences impact the way we treat one another and the way we interact with patients. Then we must work to end those things. We are proud to partner with Rali to contribute to that goal."

MetroHealth President & CEO Airica Steed, Ed.D., MBA, RN, FACHE.