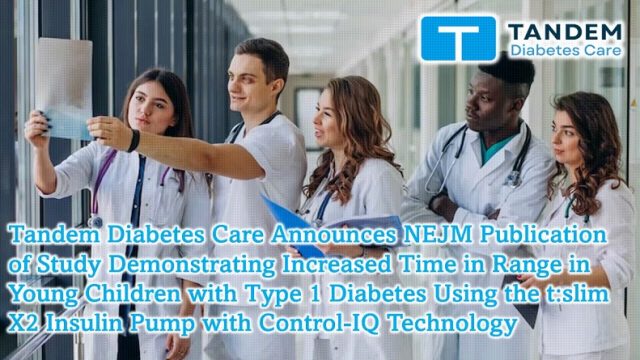 Tandem Diabetes Care, Inc., a leader in insulin delivery and diabetes technology, today announced that it has published the results of the Pediatric Artificial Pancreas (PEDAP) clinical trial in the New England Journal of Medicine. Tag range for children aged 2-5 with t*:With advanced Control IQ hybrid closed-loop technology**, the slim X2 insulin pump outperforms standard insulin pumps and multiple daily injections. All participants used the Dexcom G6 continuous glucose monitoring (CGM) system. The results observed in this randomized controlled study of subjects using Control-IQ technology, an automated insulin administration (AID) system, varied by ethnicity, parental education, family income, baseline glycated hemoglobin levels, virtual vs. Face-to-face training format and method of insulin administration prior to the study. A subject with a higher baseline hemoglobin A1c (A1c) value experienced a significant improvement in her A1c with time in range during the study.
"The safety and efficacy outcomes observed in this study support using Control-IQ technology for young children with type 1 diabetes to enhance the quality of life and minimize the risk of long-term complications,"

"Studies using Control-IQ technology have shown impressive results in different age groups, now in a sequence of randomized controlled trials published by the New England Journal of Medicine, demonstrating more time in range with low risk of hypoglycemia."

Dr. R. Paul Wadwa, Professor of Pediatrics at the Barbara Davis Center for Diabetes, the University of Colorado Anschutz Medical Campus and protocol chair for the PEDAP Clinical Trial.
"After the resounding success of Control-IQ technology in people ages six and up, it is very rewarding to see our youngest patients, and often the most challenging patients to help, benefit as well,"

"With these results, we have now accumulated years of clinical validation of this system across all age groups and look forward to seeing this life-changing technology made available to the broadest possible population."

Dr. Marc Breton, the Associate Director for Research at The Center for Diabetes Technology at the University of Virginia, and the Principal Investigator of the PEDAP study.
"Use of the t: slim X2 insulin pump with Control-IQ technology demonstrated substantial improvements in glucose control, particularly overnight, with no increase in hypoglycemia in young children,"

"Initiating pump therapy with automated insulin delivery can be very daunting for parents. A system offering these clinical benefits that are simple enough to start with virtual training makes the t: slim X2 insulin pump an excellent therapeutic option for this population."

Jordan Pinsker, MD, Vice President and Medical Director at Tandem Diabetes Care.
Key Data Highlights
Glycemic Control Over 13 Weeks
Meantime in range with Control-IQ technology increased from 57 percent at baseline to 69 percent during follow-up compared to 55 percent to 56 percent in the control group, for a mean adjusted difference of 12.4 percent.
Hemoglobin A1c decreased 0.5 percent from baseline with Control-IQ technology, a median improvement of 0.42 percent compared to the control group.
Time spent in hyperglycemia (>250 mg per deciliter) was 5.4 percentage points less with Control-IQ technology than the control group.
Time spent in hypoglycemia (<70 mg per deciliter) was low but not significantly different between groups.
Results with Control-IQ technology were immediate (evident within 1 day of initiation) and sustained.
Nighttime mean time in range was 74 percent with Control-IQ technology versus 56 percent in the control group and daytime was 67 percent versus 56 percent, respectively.
Total daily insulin dose and weight change appeared similar between the Control-IQ technology and standard care groups.
System Performance and Usability
The median time the system was in an active closed loop was 94 percent.
Results were observed regardless of pre-study experience with an insulin pump.
The 13-week trial was completed by all but one patient (101 of 102 enrolled.)