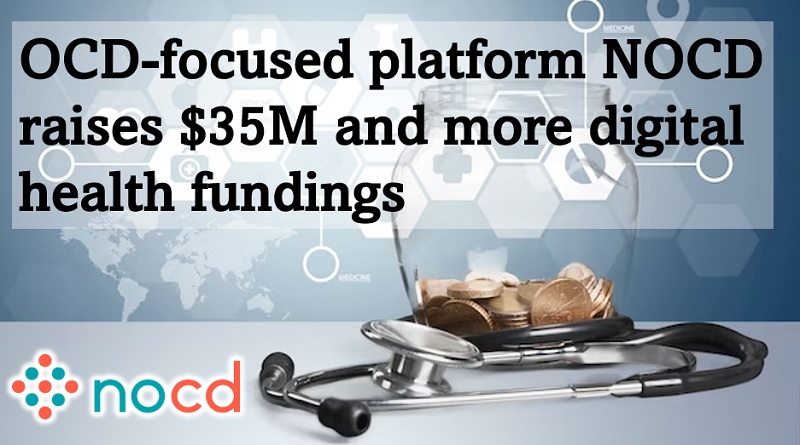 Digital obsessive-compulsive disorder (OCD) identification and management platform NOCD has closed a $35 million funding round co-led by Cigna Ventures and 7wireVentures. Existing investors F-Prime Capital, Kaiser Permanente Ventures, Health Enterprise Partners and Eight Roads Capital also participated in the round along with new investor Longitude Capital. The Chicago-based company offers video-based OCD treatment using Exposure and Response Prevention Techniques, a behavioral therapy that puts a person in a situation that triggers an OCD response and teaches how to tolerate these stressors. The company will use the money to further expand its network of therapists and continue marketing efforts with comedian and TV personality Howie Mandel. The company will also try to improve its analytics capabilities.
"Cigna Ventures is focused on working with companies who are bringing forward innovative solutions that can more effectively and efficiently solve some of health care's biggest challenges,"

"NOCD plays a critical role in the behavioral health ecosystem with a proven ability to identify patients in need and seamlessly connect them to evidence-based therapy and tailored resources."

Craig Cimini, head of Cigna Ventures.
The latest round of funding follows NOCD's announcement in August that members of New York's Aetna Insurance and Blue Cross Blue Shield will have access to NOCD's platform. NOCD also closed a $33 million Series B funding round in 2021, a $4 million Series A funding round in 2019, and a $1 million seed funding round in 2018. California-based diagnostic startup Simple HealthKit has raised $8 million in a Series A funding round, bringing the total raised to $12 million. The round was led by Initialization Capital with participation from Kleiner Perkins, Quest Venture Partners and Kapor Capital. Simple HeathKit provides tests for sexual health, respiratory diseases and chronic diseases such as diabetes for use at home, in the clinic or pharmacy with advice and treatment recommendations in case of a combination. positive test result. This funding will help Simple HealthKit expand its testing portfolio and bring its platform to underserved markets. New York-based children's mental health platform Fort Health has announced a $4.5 million donation to the Green Venture Fund. Fort Health was developed by Redesign Health in partnership with the Child Mind Institute, a nonprofit organization focused on helping children with learning and mental health disabilities. The startup provides a platform that connects primary care and behavioral health providers to improve access to mental health care for children. Fort Health is commercially insured by Aetna, Optum/United Healthcare and Geisinger Health Plan in New Jersey. The company said it plans to expand to New York and other states this year. The new funds will be used to drive the company's market expansion. Newel Health has received a $2.5 million grant from the Michael J. Fox Parkinson's Disease Research Foundation to continue research and development on Soturi, the company's platform for Parkinson's disease patients. Soturi offers physical, vocal and vocal exercises and anxiety support as well as symptom monitoring, medication reminders and a wearable wristband that can detect tremors. Newel was built with investment from Italian firm Healthware Ventures, the venture capital fund of the Healthware Group.
"This grant from The Michael J. Fox Foundation marks the first of many important milestones for the company as it continues to develop its portfolio of digital solutions so that the health journeys of people living with health conditions and their doctors' efforts will become as clear and successful as can be,"

Roberto Ascione, chairman of the board of Healthware Ventures.
Canadian health tech startup The Rounds, which provides a network for healthcare professionals across North America to connect and discuss medical topics, has raised 1 more, CAD 6 million ($1.19 million) in a Series A funding round. The latest funds from Atlanta-based Panoramic Ventures and Invest Nova Scotia bring the company's Series A round to C$6.7 million ($4.99 million). The company announced a $5.1 million raise in September.
"Our team at Invest Nova Scotia is proud to be a long-time supporter of, and investor in, The Rounds. The Series A fundraise will help replicate the company's success in Canada across key healthcare markets in the U.S. There has never been a better time to break down the geographic barriers stifling collaboration in specialty healthcare, and The Rounds is doing just that,"

Ben McDade, investment principal at Invest Nova Scotia.