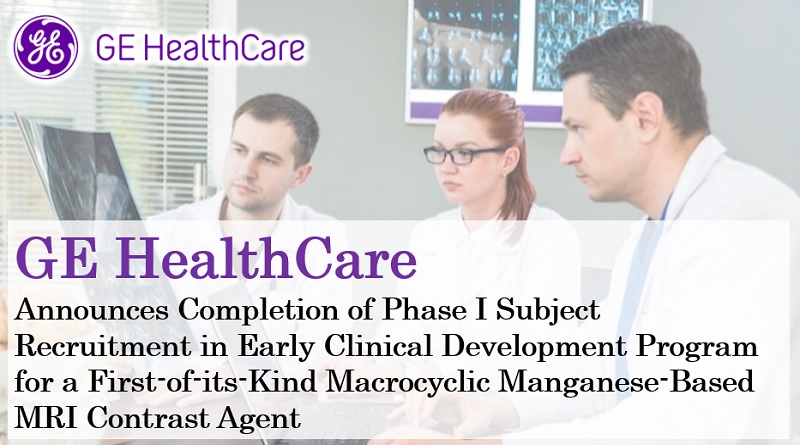 GE HealthCare announced today at the European Congress of Radiology (ECR) in Vienna, Austria that it has completed the registration of Phase I subjects in the initial clinical development program for circumferential magnetic resonance imaging. Manganese-based large-scale, the first contrast agent of its kind (MRI). agency. Typically, MRI agents – used to improve imaging of abnormal structures or lesions and help differentiate between healthy and pathological tissues – are based on gadolinium. This manganese could expand GE Healthcare's portfolio of MRI contrast agents for radiologists, providing a potential alternative to perceived concerns about gadolinium retention.Macrocyclic, extracellular – or general purpose – manganese-based contrast agents have comparable relaxation – the contrast agent's ability to enhance signal intensity during magnetic resonance imaging – and should be similar in design diagnostic plan with current gadolinium-based contrast agents (GBCA). Unlike gadolinium, manganese is endogenous, i.e. it is a trace element that occurs naturally in the body and is effectively eliminated. Together with its magnetic properties, this makes a manganese-based agent a viable substitute for gadolinium. Alternatively, a substance other than gadolinium may help limit the potential effects of gadolinium excreted into the environment after the patient.The clinical trial, based at the Oslo University Hospital Clinical Research Unit, Rikshospitalet, Norway, and supervised by Principal Investigator, Hasse K. Zaré, aimed to investigate the safety profile safety and how to remove this injectable manganese contrast agent from the body in healthy individuals. volunteers. Previous manganese-based MRI agents depended on a "free manganese" release mechanism for their imaging efficacy. This new research agent is tightly bound to the chelate, in a large ring-cage-like structure, so that it is rapidly eliminated from – rather than being actively released into – the body.
"For many years we've been committed to investing in, and bringing to market, products to help solve some of radiology's biggest challenges and unmet needs. This manganese-based MRI agent is one of a number of novel agents we have at various stages of development in our innovation pipeline, all of which aim to give practitioners more choice in delivering precision care for their patients."

Dr Paul Evans, Head of Global R&D at GE HealthCare's Pharmaceutical Diagnostics unit.
GE Healthcare's Pharmaceutical Diagnostics is a global leader in diagnostic imaging agents used to support approximately 100 million procedures each year worldwide, which equates to three procedures for patients with cancer. multiply every second. For more than 40 years, GE imaging agents have been widely used in MRI, X-ray/CT, and ultrasound to enhance clinical images and aid in diagnosis.