The market for pharma and biotech CRM software was worth USD 4,528.4 million in 2021, and it is anticipated to grow to USD 10,830.2 million by 2027. During the forecast period, the market is anticipated to grow at a CAGR of 15.2 percent.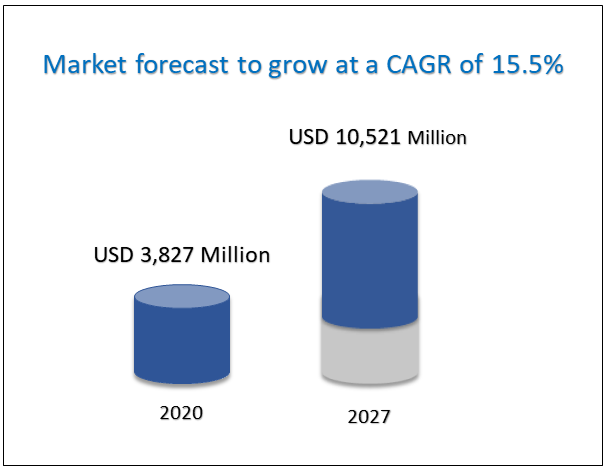 The pharmaceutical and biotechnology industries have experienced rapid expansion, and the rising number of businesses investing in this space is directly driving up demand for CRM software. Additionally, a variety of subsectors, including hospitals, healthcare payer systems, public clinics, private clinics, and research labs, greatly benefit from CRM software.
Growth Influencers:
Increasing patient pool and growing need for client engagement
The rising incidence of diseases including cancer, cardiovascular disease, and neurological problems is driving up demand for the adoption of cutting-edge systems, which in turn drives up the need for sophisticated CRM solutions. Healthcare management must find ways to attract, keep, and engage patients to meet the growing need for specialized treatment. As a result, CRM software has become increasingly necessary.
Growth and development of the healthcare IT sector
Investment flows in health technology are being attracted by the robust capabilities of digital health apps and their promise in the healthcare sector (health-tech). Globally, 789 deals of USD 14.8 billion in value were made in the health technology sector in 2018, and this figure dropped to USD 13.8 billion in 2019. However, over the past ten years, both the quantity and value of agreements have dramatically increased. That is illustrating the growth prospects for the industry and the rising attention of market players to seize the market's potential.
Segments Overview:
The deployment, enterprise size, industry, and technology segments are used to break down the global pharma and biotech CRM software market.
By Deployment
On-Premises
Cloud-Based (SaaS)
The cloud-based (SaaS) segment is likely to hold the highest CAGR of 18.2%.
By Enterprise Size
Large Enterprise
Small & Medium Enterprise
In the years 2021 to 2027, it is anticipated that the major enterprise segment will present an opportunity of more than USD 3500 million.
By Industry
Due to the rising use of CRM software in this sector, the pharmaceuticals section had the biggest share of more than 60% in 2021.
By Technology
The AI CRM segment is expected to hold the highest CAGR of 18.4% over the forecast period.
The global pharma and biotech CRM software market report provide insights on the below pointers:
Market Penetration: Provides in-depth market data made available by the leading competitors.
Market Development: The study provides in-depth details on promising growth areas and examines market penetration in mature categories.
Market Diversification: Offers comprehensive details about undeveloped regions, current events, and investments
Competitive Landscape Assessment: This research report includes information on mergers and acquisitions, certifications, and new releases in the global pharma and biotech CRM software market. The SWOT analysis of the key players isemphasizedasised in the research.
Product Development & Innovation: The study offers perceptive perspectives on upcoming technologies, R&D initiatives, and ground-breaking product advancements.
Manufacturing Cost Analysis: Cost-share of various components in pharmaceutical and biotechnology CRM software, cost analysis of pharmaceutical and biotechnology CRM software, and unit cost analysis of pharmaceutical and biotechnology CRM software
Consumer Behavior for CRM
Buying Behavior, By Functionality
Buying Parameters for Pharma & Biotech CRM Software Market