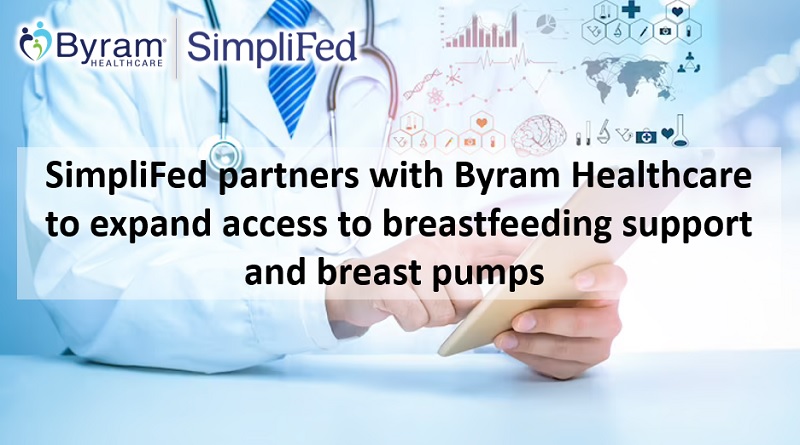 SimpliFed, the breastfeeding and breastfeeding telemedicine platform, today announced that it has signed a Joint Preferred Provider Agreement with Byram Healthcare to raise awareness and access to breastfeeding and breastfeeding support services among the patient populations of both institutions. Byram Healthcare is a leading supplier of breast pumps through insurance and related supplies. Through a partnership with SimpliFed, new parents and soon-to-be parents now have more access to virtual assistance for navigating breast pump use, breastfeeding, and feeding. breastfeed comfortably and safely in their own home.
"We are very excited to offer parents access to expanded breast-feeding resources, including lactation consulting, through this agreement"

"We're proud to help support parents throughout their pregnancy and baby-feeding journey."

Perry Bernocchi, CEO of Byram Healthcare, is part of the Owens & Minor family.
As one of the largest providers of breast pumps through insurance to families across the United States, Byram Healthcare is an in-network provider for most commercial, Medicaid, and TRICARE plans. Since 1968, Byram Healthcare has provided the products, services and support needed to optimize treatment outcomes and manage complex benefits.SimpliFed's breastfeeding and breastfeeding support services are provided without prior authorization or cost-sharing (usually up to 6 visits) to many commercial, Medicaid programs. and TRICARE throughout the United States.The Byram-SimpliFed partnership is fueled by an increase in breastfeeding rates over the past two decades in the United States, according to the latest breastfeeding newsletter from the Centers for Disease Control and Prevention. disease (CDC). In addition, last year's White House announcement of the launch of the National Strategy on Hunger, Nutrition, and Health gave the energy and impetus to the U.S. healthcare system to expand its capacity. access these essential services.This strategy calls on the US Department of Health and Human Services (HHS) and the US Department of Labor (DOL) to work to ensure the Affordable Care Act (ACA) requirements for insurance coverage. Insurance and counseling support breastfeeding at no cost in most private healthcare services, insurance and Medicaid programs are fully implemented and implemented. Byram and SimpliFed are excited to expand access to these essential services and products to help meet the needs and requirements of today.
"SimpliFed and Byram share a joint mission to facilitate access to both baby feeding support services and products to families across the United States,"

"Now, more than ever, it is important to support women on their baby-feeding journey due to the increasing number of women in the workforce and the need for non-judgmental support in light of an ongoing formula shortage. Access to trusted products like breast pumps from Byram coupled with services make such a big difference for parents starting during pregnancy and navigating the challenges with baby feeding along the way."

Andrea Ippolito, CEO of SimpliFed.