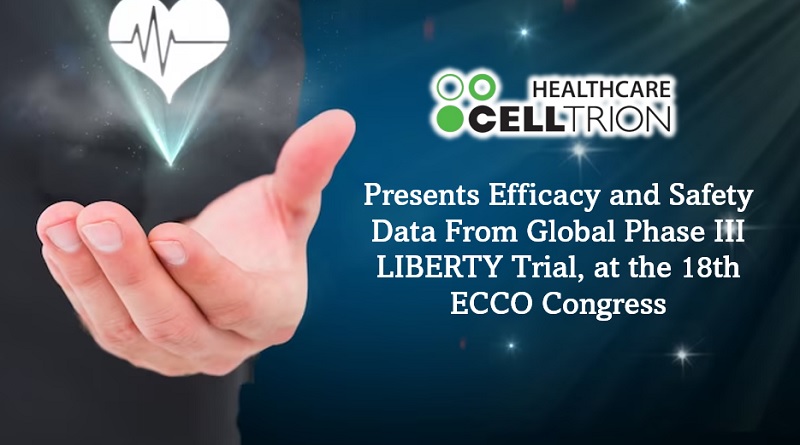 Celltrion Healthcare has presented new data demonstrating the efficacy and safety of subcutaneous infliximab (SC) (CT-P13 SC) in patients with inflammatory bowel disease (IBD). The data were presented in a digital oral presentation and poster presentations at the 18th Annual General Meeting of the European Crohn's Disease and Colitis Organization (ECCO), in Copenhagen, Denmark.
CT-P13 SC LIBERTY Studies
LIBERTY-CD and LIBERTY-UC were randomized, placebo-controlled, double-blind, Phase III studies designed to evaluate the superiority of the subcutaneous CT-P13 (CT-P13 SC) in efficacy and safety during maintenance therapy for patients with Crohn's disease (CD) and ulcerative colitis (UC), respectively.
1,2
In the CT-P13 SC LIBERTY-CD study, a total of 343 patients were randomized in a 2:1 ratio at Week 10. At Week 54, the clinical remission rate was greater in the CT-P13 SC arm than in the placebo arm (62.3% and 32.1% respectively, P<0.0001). In the CT-P13 SC LIBERTY-UC study, a total of 438 patients were randomized at Week 10. The rate of clinical remission at Week 54 was significantly greater in CT- P13 SC (43.2%) compared to the placebo (20.8%) (P<0.0001). The safety profile during the maintenance phase was comparable between CT-P13 SC and the placebo arms for both studies.
"These latest findings add to the growing body of evidence that supports the SC formulation of infliximab as a convenient and effective solution for treating IBD,"

"These results demonstrate that maintenance therapy with CT-P13 SC provides a robust clinical benefit, with the convenience of SC administration, for patients with moderately to severely active CD and UC."

Professor Jean Frédéric Colombel, Icahn School of Medicine at Mount Sinai, New York and presenting author of the digital oral presentation.
"The positive global Phase III LIBERTY studies have allowed us submit CT-P13 SC to the FDA as a stand-alone Biologics License Application under the 351 (a) pathway and the results have also reinforced our conviction in the value of CT-P13 SC,"

"We believe that CT-P13 SC, if approved in the U.S., has the potential to become the next-generation innovative therapeutic for IBD given its favorable clinical results and convenient subcutaneous route of administration."

Kevin Byoung Seo Choi, Senior Vice President and Head of Marketing Division at Celltrion Healthcare.
CT-P13 SC PHASE I POST-HOC ANALYSIS AND REAL-WORLD CASE STUDIES
A separate post-hoc analysis of the randomized Phase I CT-P13 SC study data showed C
trough
 level predicted anti-drug antibody (ADA) and neutralizing antibody (NAb) positivity in CD and UC patients, with a C
trough
 threshold of 4.695 μg/mL significantly associated with lower rates of ADA and NAb positivity.
3
In addition, real-world case studies presented during a satellite symposium at the ECCO congress indicate that the reintroduction of infliximab may be a viable treatment option for CD patients with previous anti-TNF treatment failure, by aiming to reach a higher pharmacokinetics level and lower anti-drug antibody levels. Interim results of a pilot study suggest that SC infliximab may be a viable treatment option for patients with refractory CD.
4
"Whilst there have been numerous recent advancements in IBD treatment options, there remains a pressing demand to address an unmet medical needs, especially for refractory IBD patients,"

"These exploratory results suggest that SC infliximab could provide healthcare providers with a powerful treatment tool for CD patients who have previously been considered difficult to treat."

Professor Milan Lukas, ISCARE and Charles University, Czech Republic, and one of the leading presenters for the satellite symposium.