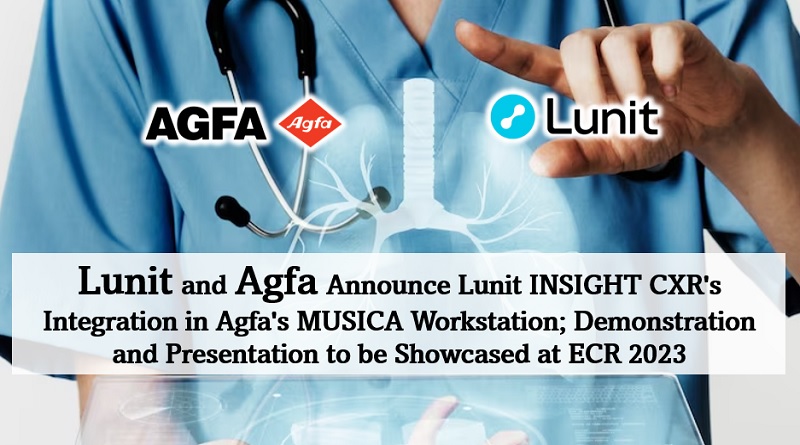 Lunit and Agfa Radiology Solutions today announced the integration of Lunit's AI solution for chest radiology, Lunit INSIGHT CXR, into the MUSICA® workstation. Agfa will demonstrate the integrated product at the upcoming European Congress of Radiology (ECR) 2023, to be held in Vienna, Austria, from 1 to 5 March. Lunit INSIGHT CXR detects suspicious lesions in chest X-ray images, helping radiologists distinguish areas of disease by providing the location of the lesion with an anomaly score that reflects a confidence level whose. The AI ​​solution can detect the 10 most common chest abnormalities, including tuberculosis, with an accuracy of 97-99°.[1] New critical outcome processing for clinicians from Lunit and Agfa that provides automatic notification to radiologists when a potentially life-threatening illness is detected, such as a pneumothorax, pleural effusion and pneumoperitoneum. As a result, hospitals can improve patient safety through timely communication with clinicians, especially in emergency settings where patients return home from X-ray examinations. optical. Agfa's MUSICA® Workstation is image processing software that provides a single intuitive interface covering general radiography, fluoroscopy, mammography, and total leg/total spine (FLFS). Lunit INSIGHT CXR integration is the first in a series of new features integrated into the MUSICA® workstation to assist clinicians and radiologists in disease detection.
"With the integration of Lunit INSIGHT CXR, we are continuing to deliver on our vision to transform digital radiology,"

"Lunit has a strong clinical validation track record and is registered in 

Europe

 and also more than 19 countries outside 

Europe

, making it an excellent partner for developing solutions that bring our customers intelligent and definitive answers to their daily needs."

Paul Danini

, Global Software Marketing and Product Manager at Agfa.
"We are thrilled to team with Agfa once again to create clinical value through AI and ensure a healthier life for patients,"

"We believe that the integration of Lunit's AI in Agfa's advanced medical imaging workstation will help facilitate more effective clinical workflows in various hospital situations."

Brandon Suh

, CEO of Lunit.
The integrated solution will be publicly showcased for the first time at booth #207 of Agfa. Lunit also announced that they will be presenting a poster presentation highlighting the ability of the Lunit INSIGHT CXR to distinguish between normal and abnormal chest X-rays – one of six presentations that Lunit will deliver. at ECR 2023. The research aims to automate the detection of normal and abnormal chest X-rays, removing them from radiologists' work lists. Lunit INSIGHT CXR was used to retrospectively analyze 1,671 X-ray images from two large hospitals in the Netherlands. Data is collected continuously without data enrichment, thus mimicking real-life use cases. The initial X-ray images are reviewed by the radiologist and classified into 5 categories: normal (548), clinically inappropriate outcome (281), clinically relevant outcome (327), urgent outcome (494), and important outcome (21). Lunit INSIGHT CXR showed a very high AUC of 0.908 when detecting normal cases and at a high specificity of 95%, it was simulated that about half of conventional X-rays could be safely removed from the Work list. As a result, the results suggest that radiologists' workloads can be significantly reduced using AI. Lunit will present a total of 6 abstracts at this year's ECR meeting, with 4 presentations and 2 poster presentations.